Zucchini Pesto is a delicious way to use up your summer zucchini! There's no cooking required, so you can whip up this flavorful sauce in just minutes.
Why You'll Love It
It tastes amazing. Zucchini has a relatively neutral flavor, so it blends in seamlessly with the fresh basil, lemon juice, and garlic. It has a bright, refreshing taste that goes perfectly with your favorite pasta, pizza, sliced veggies, and more. 
It's nutrient dense. Classic pesto is already a healthy sauce, made with nuts and fresh herbs, but you won't need to use as much oil or cheese in this recipe, because the zucchini bulks it up, instead. It's a great way to lighten things up, without missing out on any of the classic taste or texture. 
It's allergy friendly. Pesto is naturally gluten-free, and adding cheese is also optional in this recipe, if you need a vegan or dairy-free sauce.
It's easy to customize. Since there's no cooking required, you can taste this sauce as you make it, and easily make adjustments. If you don't love garlic, use less! Or if you prefer a more tangy pesto, add extra lemon juice or a touch of lemon zest. 
Ingredients You'll Need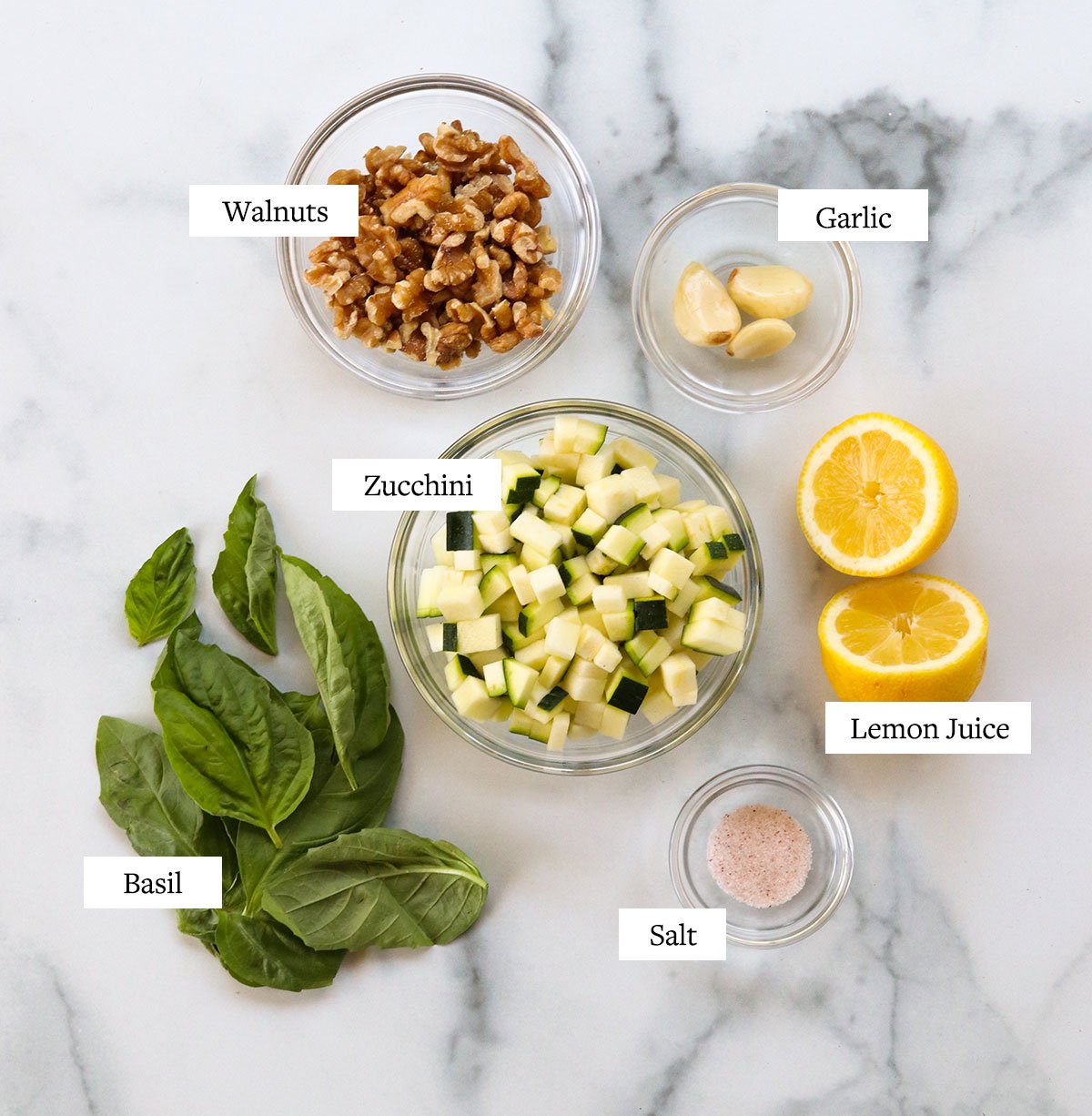 One large zucchini is more than you need for this recipe, but you can saute the rest of it, if you plan on serving this zucchini pesto over pasta. It's delicious with sauteed cherry tomatoes, too! 
If you don't keep walnuts on hand, you can also use pine nuts or almonds, or try sunflower seeds or pumpkin seeds if you need a nut-free option. 
Note: This recipe was originally posted as an oil-free vegan recipe, but I've also experimented with adding a touch of Parmesan cheese & extra virgin olive oil to the recipe over the past few years. Those optional additions are listed below in the printable recipe card, if you'd like to create a more authentic pesto flavor. Either way, it's delicious!
How to Make Zucchini Pesto
1. Measure the zucchini. 
Chop the zucchini into roughly 1/2-inch pieces, then measure out 1 heaping cup for this recipe, or about 5 ounces by weight. There's no need to peel the zucchini for this recipe. 
Wondering what to do with leftover zucchini? You can freeze it for a zucchini smoothie later, or add it to stir-fry or zucchini oatmeal.
2. Blend. 
Add the zucchini, walnuts, fresh basil leaves, lemon juice, garlic cloves, and salt to the bowl of your food processor or blender. (You'll get the smoothest results with a blender.) Secure the lid and start blending. 
To help with blending, add in 3 to 4 tablespoons of water, and use a spatula to scrape down the sides of the machine, as needed. (If you're cooking pasta to go with this sauce, reserve some of the cooking water to use here– it will thicken it up a bit more.)
For an extra cheesy pesto flavor, add in a 1/4 cup of Parmesan cheese. You can also add up to 2 tablespoons of extra virgin olive oil, if you'd like the pesto to "stick" to pasta a little better. 
3. Enjoy!
Once the pesto is blended, taste it and make any adjustments, as needed. You may want to add an extra 1/4 teaspoon of salt to help boost the flavor, or a pinch of red pepper flakes or black pepper, for a little extra spice. It's easy to customize as you go!
Serve the pesto right away over your favorite pasta or zucchini noodles, or spread it over pizza, sandwiches, and more. 
Leftover pesto can be stored in an airtight storage container in the fridge for up to 5 days. Or you can freeze it for up to 3 months.
Pro tip: Store the pesto in an ice cube tray in the freezer, then pop the cubes out and store them in an airtight container. The ice-cube-size sauce is easier to portion and reheat later!
Looking for more pesto recipes? Try Arugula Pesto or Broccoli Pesto for more veggie-forward ideas.
Easy Zucchini Pesto
Zucchini Pesto is a healthy sauce made with less oil & nuts for a lightened-up summer recipe, with all the flavor you love. Serve it over pasta, pizza, or as a dip with veggies!
Servings: 6
Ingredients
1

cup

diced zucchini

, no need to peel

1

cup

fresh basil leaves

3

garlic cloves

½

cup

walnuts

2

tablespoons

lemon juice

½

teaspoon

fine sea salt

3 to 4

tablespoons

water

, as needed to blend
Optional Add-Ins
¼

cup

grated Parmesan cheese

2

tablespoons

extra virgin olive oil
Instructions 
In the bowl of a food processor or a high-speed blender, add the diced zucchini, basil, garlic, walnuts, lemon juice, salt, and 3 tablespoons of water. Blend until the pesto looks uniform, adding an extra tablespoon of water, if needed to help everything blend smoothly. Stop and scrape down the sides of the machine, if needed.

For a more authentic pesto flavor, add in the optional Parmesan cheese and olive oil, then blend again. Taste the pesto, and season with extra salt (I add in an extra 1/4 teaspoon in this case) or a pinch of black pepper, if desired.

Once the pesto is to your liking, serve it right away over your favorite pasta, pizza, sandwiches, and more. Leftover pesto can be stored in an airtight container in the refrigerator for up to 3 days.
Notes
Nutrition information is for roughly 1/4 cup of pesto, made without the optional add-ins. This information is automatically calculated, and is just an estimate, not a guarantee.
This recipe was updated in June 2023 with the optional Parmesan & olive oil additions, because it tastes delicious that way, too! I hope you'll enjoy either version you try.
Nutrition
Calories: 72kcal, Carbohydrates: 3g, Protein: 2g, Fat: 6g, Saturated Fat: 1g, Polyunsaturated Fat: 5g, Monounsaturated Fat: 1g, Sodium: 196mg, Potassium: 120mg, Fiber: 1g, Sugar: 1g, Vitamin A: 255IU, Vitamin C: 7mg, Calcium: 23mg, Iron: 1mg
If you try this zucchini pesto recipe, please leave a comment and star rating below letting me know how you like it.